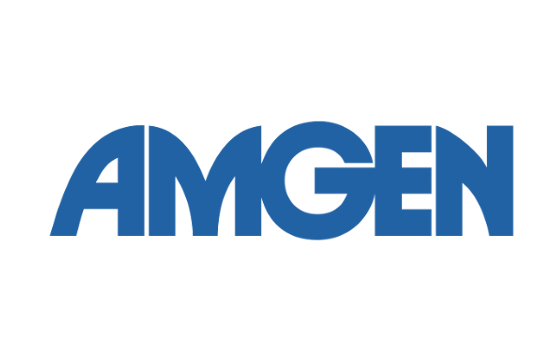 Amgen (NASDAQ: AMGN) today announced strategic collaborations with leading diagnostic companies Guardant Health, Inc. and QIAGEN N.V. to develop blood- and tissue-based companion diagnostics (CDx), respectively, for investigational cancer treatment AMG 510. AMG 510 is the first KRASG12C inhibitor to advance to the clinic for investigation in treatment of multiple tumor types. KRAS G12C is one of the most frequently mutated oncogenes in human cancers. The agreements with both companies will initially focus on CDx tests for non-small cell lung cancer (NSCLC) but allow for further development of the diagnostic tests for Amgen's other oncology clinical development programs.
"Amgen is committed to driving broad accessibility to biomarker testing in order to select appropriate patients who will directly benefit from targeted treatments," said David M. Reese, M.D., executive vice president of Research and Development at Amgen. "With one in eight patients with NSCLC having KRAS G12C, there's a critical need to improve access to high quality diagnostics and more routine screening. Collaborating with QIAGEN and Guardant Health to have both tissue- and blood-based diagnostic tests available will help to identify patients with NSCLC who may benefit from AMG 510."
Amgen will work with QIAGEN to develop a tissue-based diagnostic test utilizing its therascreen® platform to identify patients whose cancers have the KRAS G12C mutation. QIAGEN will also pursue global regulatory approvals, including Pre-Market Approval (PMA) from the U.S. Food and Drug Administration (FDA). To enable biomarker testing in patients for whom insufficient tissue remains a challenge, Amgen is also collaborating with Guardant Health to develop a liquid biopsy CDx. Guardant360 CDx is a multi-tumor comprehensive NGS (Next Generation Sequencing) test that is being developed to identify patients with actionable alterations, in this instance with the KRAS G12C mutation in NSCLC. Guardant Health will seek global regulatory approvals for the test, including a PMA from the FDA.
AMG 510 is currently enrolling patients in a potentially registrational Phase 2 study (CodeBreak™ 100). The FDA granted Orphan Drug Designation to AMG 510 for previously treated metastatic NSCLC and colorectal cancer with KRAS G12C mutation and Fast Track Designation for previously treated metastatic NSCLC with KRAS G12C mutation.
Amgen established RAS as the first actionable biomarker in metastatic colorectal cancer and is now pioneering the development of KRAS mutation specific inhibitors in lung cancer and other solid tumors with AMG 510.
About KRAS
The subject of almost four decades of research, the RAS gene family are the most frequently mutated oncogenes in human cancers.(1,2) Within this family, KRAS is the most prevalent variant and is particularly common in solid tumors.(2) A specific mutation known as KRAS G12C is found in approximately 13% of non-small cell lung cancers, three to five percent of colorectal cancers and one to two percent of numerous other solid tumors.(3) KRASG12C has been considered "undruggable" due to a lack of traditional small molecule binding pockets on the protein.(4) Amgen is exploring the potential of KRASG12C inhibition across a broad variety of tumor types.
About Amgen Oncology
Amgen Oncology is searching for and finding answers to incredibly complex questions that will advance care and improve lives for cancer patients and their families. Our research drives us to understand the disease in the context of the patient's life – not just their cancer journey - so they can take control of their lives.
For the last four decades, we have been dedicated to discovering the firsts that matter in oncology and to finding ways to reduce the burden of cancer. Building on our heritage, Amgen continues to advance the largest pipeline in the Company's history, moving with great speed to advance those innovations for the patients who need them.
At Amgen, we are driven by our commitment to transform the lives of cancer patients and keep them at the center of everything we do.
About Amgen
Amgen is committed to unlocking the potential of biology for patients suffering from serious illnesses by discovering, developing, manufacturing and delivering innovative human therapeutics. This approach begins by using tools like advanced human genetics to unravel the complexities of disease and understand the fundamentals of human biology.
Amgen focuses on areas of high unmet medical need and leverages its expertise to strive for solutions that improve health outcomes and dramatically improve people's lives. A biotechnology pioneer since 1980, Amgen has grown to be one of the world's leading independent biotechnology companies, has reached millions of patients around the world and is developing a pipeline of medicines with breakaway potential.
1. Cox A, et al. Drugging the undruggable RAS: Mission possible? Nat Rev Drug Discov. 2014;13:828-851.
2. Fernandez-Medarde A, Santos E. Ras in cancer and developmental diseases. Genes Cancer. 2011;2:344-358.
3. Lipford, JR. Pre-clinical development of AMG 510: the first inhibitor of KRASG12C in clinical testing. Oral presentation at AACR 2019, Atlanta, GA. March 29-April 3, 2019.
4. Stephen AG, et al. Dragging ras back in the ring. Cancer Cell. 201417;25:272-281.